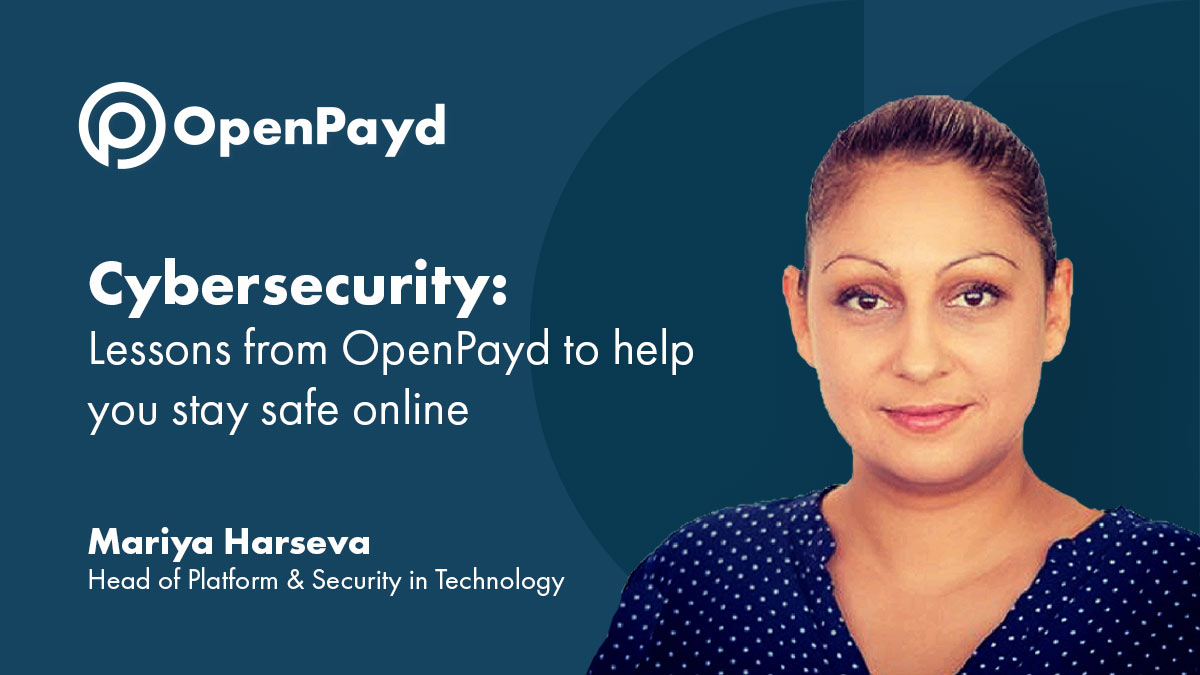 For National Cybersecurity Awareness Month, we asked Mariya, our Head of Platform and Security, for her advice on staying safe online.
October is National Cybersecurity Awareness Month and, naturally, it's a topic that's close to our hearts here at OpenPayd. It's also an area that's constantly changing; cybercrime moves quickly and we all need to be doing our bit to stay safe online.
To give her take on what we can all do to stay safe online, we asked our Head of Platform and Security Mariya, to share her top tips for anyone looking to stay safe online, based on her lessons and experience.
What is the approach to cybersecurity at OpenPayd?
Mariya: I always say that most people still think that security is always too much until the day comes when it's not enough!
We keep this in mind at OpenPayd. Right throughout the design, architecture and delivery of our services, we always take privacy principles and security best practices into consideration. Keeping customer data safe is our utmost priority – it has to be when we're dealing with money and payments!
What's one thing you see businesses getting wrong with cybersecurity?
Security is critically important, but we have to find a balance between security and usability. Some of the most insecure systems are ones with complex security checks that become cumbersome for users – that's when the user starts avoiding the security controls completely. Your efforts to be more cyber-secure end up having the opposite effect!
At OpenPayd, we're always looking to design our systems in a smart way, balancing usability and security so that our clients are protected at all times. That combination of great technology with the right security controls was one reason we were recently shortlisted for the Cloud Excellence Awards for Best Cloud Finance Solution.
What advice do you have for people looking to stay safe online?
Mariya: Cyberspace is constantly changing: a password is no longer a sufficient protection mechanism!
Everyone should be sticking to password best practices: using a complex password, with a long string of characters and numbers, which they're changing regularly. But a strong password alone isn't enough these days.
That's why you should always make sure you enable multi-factor authentication to any services or technologies you use. That could involve binding your login credentials to authentication apps, or receiving one-time-passwords provided over SMS or email. Where possible, biometrics can be an incredibly useful authentication mechanism.
Ultimately, it's your privacy and digital identity you are aiming to protect by following the best practices.
What do you think people misunderstand about cybersecurity?
Mariya: Cybersecurity isn't a computer science subject – it's a mindset!
Developing that cybersecurity mindset is something anyone can do, regardless of technical abilities. On the other hand, perhaps the worst thing you can do for your security online is to discount or neglect it. You can't underestimate the importance of those basic principles in cyberspace.
Eventually, this will pay off, as you will ensure sufficient protection and resilience for your digital identity.