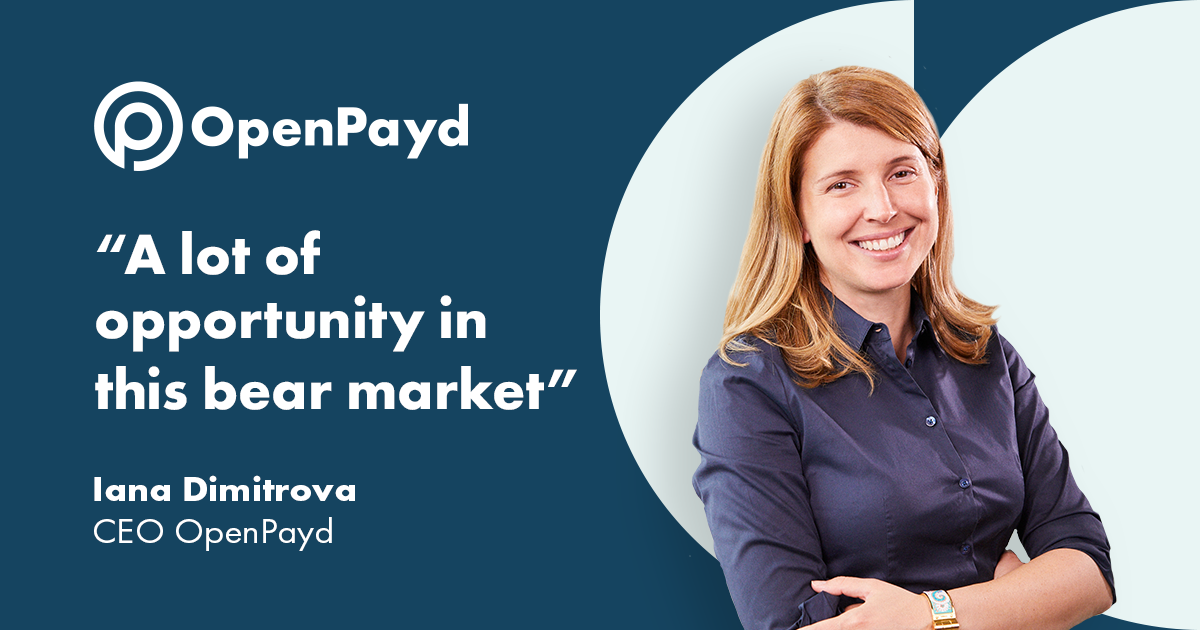 OpenPayd's CEO Iana Dimitrova sat down with AltFi to discuss regulation, payments and crypto.
Part of the newest wave of fintech disruption,OpenPayd,the London-based Banking-as-a-Service (BaaS) provider combines its regulatory and tech expertise to help firms integrate payment and banking solutions into their offerings.
BaaS describes a business model where licensed banks integrate their products and services directly into a non-bank business. Third parties such asOpenPaydaggregate bank API's containing identify verification, income verification, deposits and payment data, allowing non-banks to offer bank-like services and products to their customers…
Insurance, travel and automobile firms have all been looking to modernise their payment capabilities, but according toIana Dimitrova,chief executive officer atOpenPayd,"digital asset firms" in particular have been interested in OpenPayd's BaaS offering.
"In the beginning, tier-one banks did not want to service crypto. Frankly, I don't think they had the technology or the understanding of crypto to service them," Dimitrova said.
Back in 2015, whenOpenPaydlaunched, crypto firms could not access bank accounts. In a policy paper titled 'Digital currencies: response to the call for information published in March 2013 by the HM Treasury, crypto firms faced "difficulty" opening banks and absent regulation means they could not "prove [their] legitimacy".
Simultaneously, traditional banks were "hesitant" to work with the crypto firms, with the report stating that banks have made "little effort" to evaluate the risks and opportunities presented by the nascent crypto industry.
"At the time crypto was such a nascent industry that infrastructure, transparency and compliance were not there yet, neither was banking-as-a-service" Dimitrova explains.
Today, some of the most prominent examples of BaaS include Uber, which partnered with BaaS provider Green Spot and BBVA bank to offer drivers access to deposit accounts and credit cards on its app.
Just last week,eToro– which was one of the first mainstream platforms to offer investors crypto exposure –announced it had partneredwithOpenPayd.eTorocustomers will now receive their own virtual IBAN and have access to real-time European payment rails.
"Embedded payments cards, embedded, payment accounts, embedded finance. Right now everyone is interested," Dimitrova said.
"Regulation and legislation lag innovation"
A fintech veteran with 10 years in the industry, Dimitrova's career first took off in the legal field, where she specialised in technology, telecommunications and media among other things.
Despite her expertise, Dimitrova briefly mused: "I often ask myself, would I have preferred having a legal background or a tech background".
"There are two ways we help companies. One is with our technology the other is by helping them meet the regulatory demands set out by jurisdictions", she explains.
Regulation and the crypto industry have had a contentious relationship since bitcoin's inception in 2009. For many regulators, the boldness of crypto and the speed at which the industry has grown has been difficult to cope with.
"Regulation and legislation lag innovation. Especially in crypto where things change so quickly," said. That is whyOpenPaydoffer anti-money laundering (AML), fraud assessment and fund monitoring services to their clients she explains.
For instance, in June 2021, theFinancial Conduct Authority(FCA)and crypto exchange Binance got into aregulatory spatabout the transparency and AML standards in place at the exchange.
TheFCAruledthat the crypto giant was not permitted to operate its exchange services in the UK, prompting Binance to move its headquarters to Dublin.
Last week, payment providerRevolutmet the FCA's AML standards, becoming the38th out of 248 firmsseeking regulatory approval to custody or operate as an exchange in the UK.
Particularly since May regulators have become even more strict on compliance she says, referring to thecollapse of Terraform Lab'sstablecoin terraUSD.
As a stablecoin, terraUSD was supposed to maintain its $1 peg, however, a bank run on the stablecoin coupled with a downturn in the market saw terraUSD lose $40bn, indirectly causing $600bn worth of crypto to be wiped out across the industry.
"I think there has been a drop in confidence in that market [stablecoins] and without regulatory compliance, it cannot be easily repaired," she notes.
"Compliance adds value. It doesn't matter if you're a user or a company, it needs to be seamless and that boosts confidence for both parties," she adds.
"We can't be restricted by the SWIFT network"
Keyto the BaaS model is a course dealing with payments and providing firms with the infrastructure required to integrate or add to their current payment solutions. Driving this pursuit of payment efficiency, Dimitrova said that the current state of global payments is "lacking" in its inclusivity and speed
"In the UK and Europe, payment efficiency is quite high, but other geographies don't have a provider that has solved the problem of high-quality service and access," she said, particularly noting current issues with cross-border payments.
According to the International Monetary Fund, the current cross-border payment system is hampered by an absence of interoperability, making it expensive and therefore inaccessible.
The average cost of transferring funds is 6.3 per cent, leading to $45bn per year being diverted into the hands of intermediaries andaway from beneficiaries, including lower-income households and small businesses the IMF finds.
Peer-to-peer, low-cost and quick payments are fundamentally what bitcoin and its subsequent cryptocurrencies set out to solve. Trading cryptocurrencies do not require customers to have a home address or a list of identity documents, which many of the unserved and unbanked lack.
According to theWorld Bank,1.7bnpeople are unbanked, with crypto payments a potential solution to their lack of bank access. However, as Dimitrova explains blockchain technology and the world of 'democratised finance' still have some way to go.
"Many [people] who trade crypto and the firms that offer services have the imperfect infrastructure," she said. Virtual accounts like the ones integrated intoeToroallow businesses and individuals to receive payments across the EU without having to worry about exchange fees.
OpenPaydmanages to service similar firms and their clients through API-based BaaS. The Bank of International Settlements suggests that API-based solutions would help quicken payment data processing and ultimately the cost of conducting business.
The paper notes that 65 per cent of bank and fintech respondents use APIs to improve their payment infrastructure, with 20 per cent looking to do so in the future.
"We need a harmonisation… in an ideal world, global funds will no longer be restricted by the limitations ofthe SWIFT network," Dimitrova said.
Next week,OpenPaydare hosting a crypto-payment panel discussion ' Crypto rewired'. Panelists include Kraken,eToro,Crypto.com and Bitstamp to name but a few. The event will focus on developments in the crypto ecosystem during the current bear market.
Dimitrova said: "Although the current situation is a challenge, there is a lot of opportunity in this bear market".